Welcome to Our Site
The Commonwealth of Pennsylvania is a geographically diverse state with a Great Lake (Erie) on one shore and a major seaport on the other. The climate of Pennsylvania is pleasant, with cold, often snowy winters, mild to hot, humid summers, and gorgeous green springtimes, and most notably, spectacular displays of colorful autumn foliage. We host a number of vital cities, from Pittsburgh to Williamsport, (home of Little League Baseball), to Philadelphia, which houses the Liberty Bell and Independence Hall. The interior of the state has a number of subcultures worth exploring, including the famous Amish countryside, a religious community. Pennsylvania is known for its Revolutionary War-era historical sites like Valley Forge, its large cities, its farming regions, some occupied by the Amish, and a strong industrial history. It is the only one of the original 13 states that did not have any frontage on the Atlantic Ocean. With equally large swaths of cities and towns alongside fields and mountains, Pennsylvania is a rich and varied state, as well as a worthy travel destination. 71,452,091 people have visted PA through our site!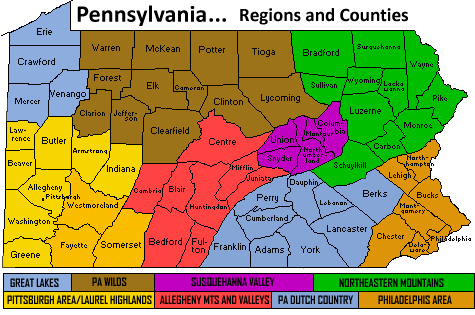 Click Above to Visit Sponsors
Spotlight
Shipping Furniture: Shipping furniture is our specialty. Custom packing and shipping solutions for small moves.